Happy Blogiversary to me! It's been 2 good years. I've shared lots of projects, made lots of friends. I was wary about starting a blog, but I've had nothing but a good experience, and I look forward to more years of blogging.
The moment you've all been waiting for...who wins the Brooks Farm? Well, the total number of jelly beans is.....375. The only one close to that was
Laura
. I have your address...it'll be in the mail this week. Congrats to Laura! Commenters like Terby,
Trek
,
Karen
, and
Wendy
(oh Wendy, tell your kids I'm sorry they didn't guess correctly) and all the other lurkers...keep on commenting...Thanks for coming by, but don't stop because I have given away the yarn. It's good to know that there are people out there that read.
Now, finished objects:
A finished cardi: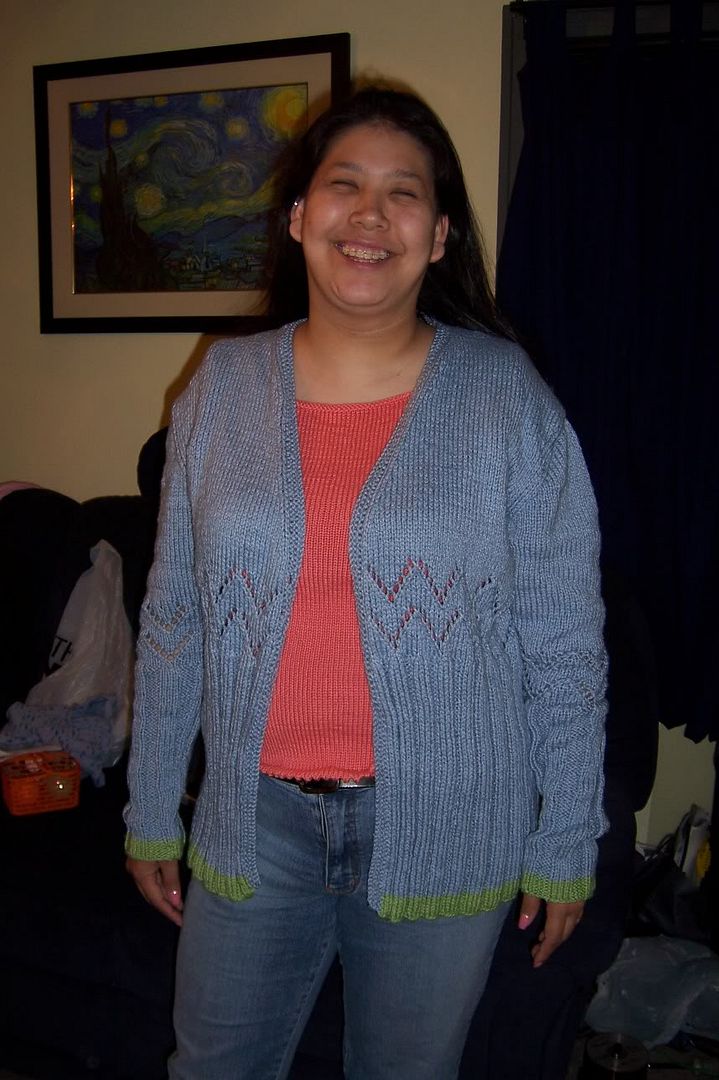 This was knit with 7 skeins of blue, 1/2 skein of green Misti Cotton, and size 7 needles. The sleeves are a bit poofy at the cap, and a smidge too long, but it's nothing that I can't live with. I haven't put the buttons on yet, but here are the buttons I'm going to use: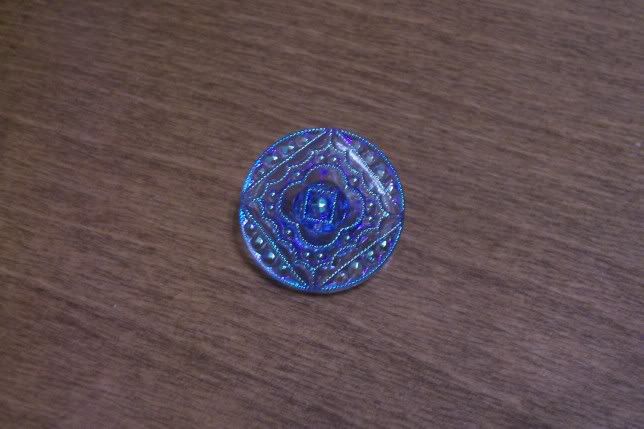 Hey, what's that under the cardi? A finished Picovoli!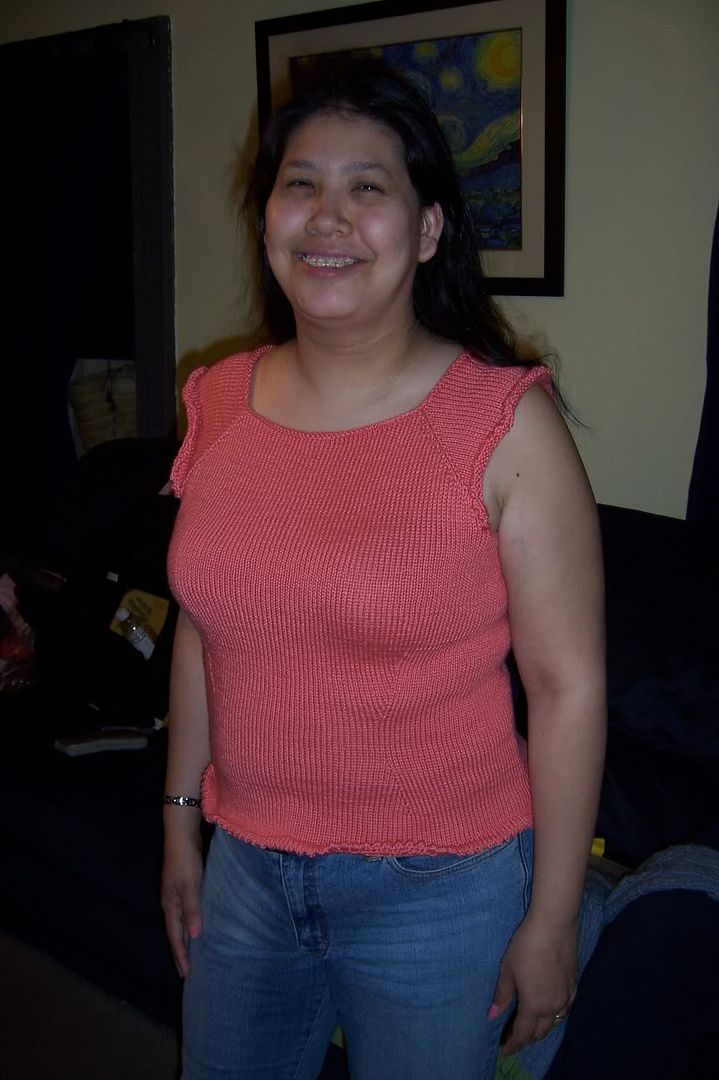 Yes, it needs a bit of a block, especially those picot edges, and the ends need to be woven in. Stats on Picovoli: 6 skeins of Knit Picks Shine in coral, size 3 circs, and finished (minus the weaving in of ends and blocking) in 8 days. I loved this one...I may have to do a couple more in different colors.
A dinosaur from
xtreme-knitting
( click pic for another view).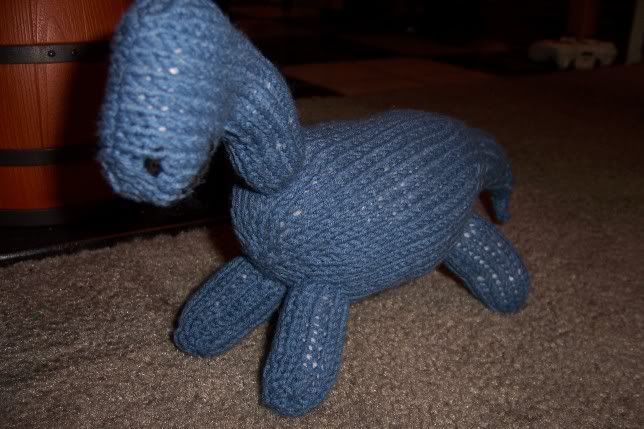 Bronty was knit with some random cotton I found in the stash. I know that the fabric is too loose and the stuffing shows thru, but the little boy getting Bronty? He won't care a bit. Stegs is indisposed at the moment, and doesn't want to be photographed just yet.
Well, since the big knitting has been finished, I started looking for something new to challenge me. Instead of picking up the shawl again to work on, I bought a new book and cast on immediately for something in it. I bought Socks, Socks, Socks. I have mentally dog-eared a bunch of patterns, but have started on this one: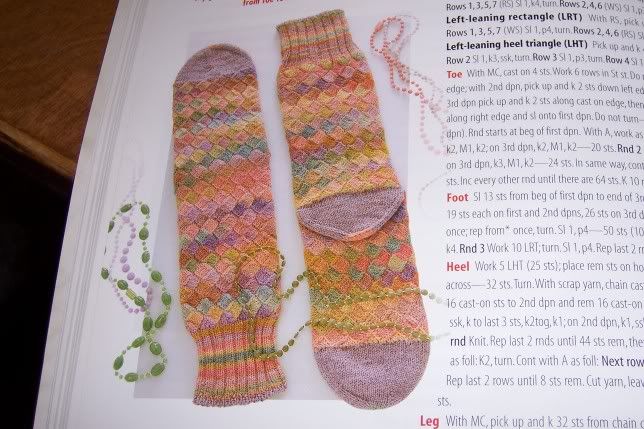 Yep, entrelac socks. Toe up. I have problems. But I can admit it. My progress so far (I'm using Trekking, surprise, surprise):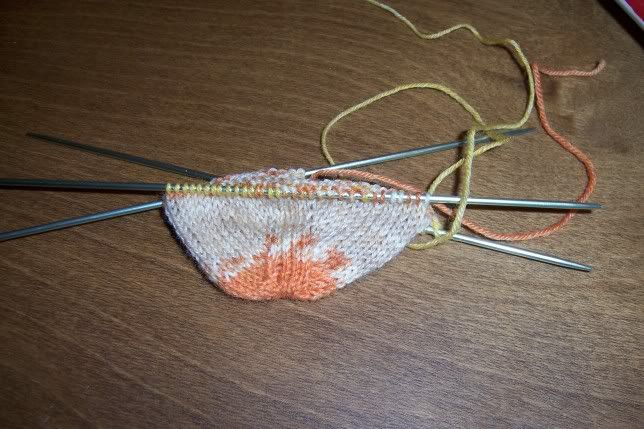 I can't wait to see how these progress.