So we're back from Boston, and I owe you all some photos. Xback progress has stalled, and there's really nothing to see. The booga bag has gone missing. I went round the house calling for it and it didn't answer. I think it's gone into hiding. But my husband thinks I'm ready for the nut house, because I'm calling for the booga bag wearing pajama that have this on it:
Does that make me crazy?
The letter-have-it bag...how darn cute is it?!?
I think I'll be making more of these. Not only was it a quick knit, it felted in just one washing. Yay!
So my goodies from Boston (bought at A Good Yarn where I got to meet
Alison
!)...
That's 2 skeins of a very yummy pinky colorway in Koigu, 2 lovely pinky skeins of Lang Jawoll, and a very cute must have tape measure. I also bought 2 sock patterns and
Folk Shawls
, Folk Shawls being for my mom for her birthday.
The Lang Jawoll are for socks for my Sockapalooza Pal, even though I've started a pair for her already. I couldn't decide between the colors she said she liked, so...she gets both! I love making socks and knock them out fairly quickly, so it's not a big deal to me. Here's what I've got so far from the first pair: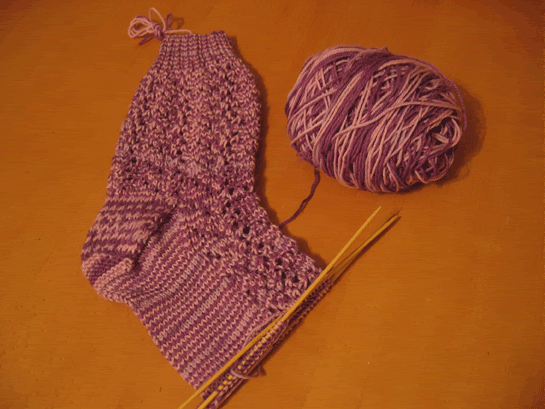 And because I LOVE this picture, I thought I'd share it. We're on the Swan boats in Boston. How cute is this picture?
Oooh, I found a pic of the very elusive booga bag...