I found a box on my doorstep on Monday. It was from my Cheap Ass Secret Pal 2. I had her figured out already, so
Ali
didn't bother trying to keep it secret. Ali outdid herself, and I wonder if Ali understood the
Cheap Ass
part of Cheap Ass Secret Pal.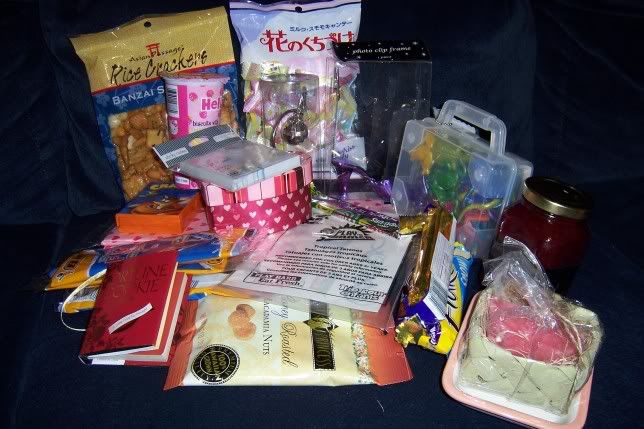 Alright, what you see there is: Banzai Spicy Mix Crackers, Flower Kiss Candy, a Crash video game (for the little one), Stretchy frogs/lizards/snakes (also for the little one), tropical tattoos, a fortune cookie book, 3 pens/markers, Hello Kitty Biscuits, postits, a heart shape box, fruit roll ups, 2 photo clip frames, 3 packages of tissue paper with hearts, macadamia nuts, a flower candle, a soap dish (candle holder?), raspberry jam, a crunchie bar and 2 flake bars. Whew. I'm a spoiled girl.
No knitting pics today. I'm working steadily on the tea shawl, and am 1/2 way thru the horseshoe lace pattern. Which means that I should be approaching the section where I stopped and frogged sometime in the next few days. And the frogging? I had made mistakes and though I was content to live with them, once I started frogging, I couldn't really stop and thought it was just easier to rip out the entire thing and start fresh. Amazingly, it didn't hurt as much as you would think.
The family went to a wedding last weekend. Both hubby and the little one were in the wedding party. I can't help but share pics of my little guy. He's such a ham, and the pics make me happy.