So, I used
Bonne's
zipper installation walk thru and it took over an hour, but it's in. Ends are all weaved in, and the fit is great. Here's my finished Mariah:
And here's a close up of the zipper: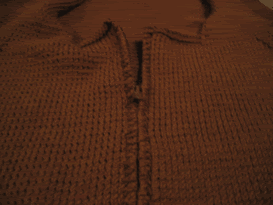 I don't know if I would do another sweater with a zipper, but aside from the zipper frustration, this sweater was so fun to knit. I used Filatura di Crosa's Zara, almost 15 balls on size 7 needles.
On to the yarn bus. I was so giddy with seeing the bus and getting to ride it (and buying yarn!), I neglected to take pics of me in front of it/my mom in front of it. So you get the pic as it turned the corner on the way to pick us up, and then just before we got in it to come home.