I started a scarf version of Clapotis out of
Helen's Lace
that I got from
Threadbear
. I don't know if the color comes out well, so if you need to peek at the true color, scroll down to the March 1st entry at
Blackdog
; it's the Glenwood colorway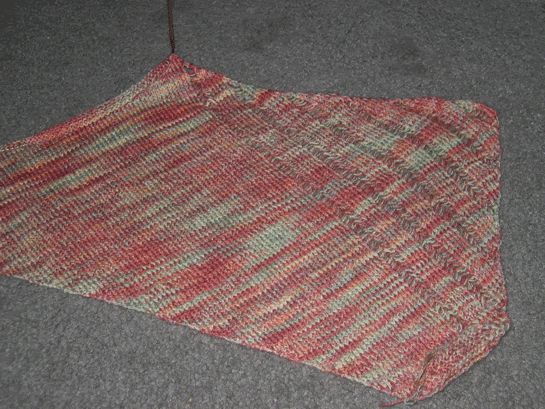 I'm speeding thru section 3. I can get one whole pattern repeat done on one leg of my trip to work, and then another repeat on the leg home. I'm not quite sure how long I'm going to make it; it's already 24" long. I like long scarves, but I may tire of this section before long.
I still have not gotten any yarn to do my
TKGA
swatches. I should do that soon. I think Friday I'm going to go on a serious hunt thru the NYC shops for some suitable yarn for the baby blanket. I really need to get it done and sent out. Baby is due in May and while I'm fast, I don't want to be pushing it.
Also, I'm going to be taking somewhat of a break from knitting. I will still post whatever I do, because I will be knitting some, just train knitting though. I've decided that this summer will be the summer of video games. I've got a
Game Cube
and a bunch of games I've started and never finished. Hubby wants to play them, but I won't let him til I finish the games. So my goal is to finish them this summer. Unless of course, the Spring
Knitty
has something or more than one something that I have to have......