I was supposed to meet up with
Stacy
from work, but the print server went down and she needed to stay. :( We'll get together eventually. I should have stayed and enjoyed the sun, but I went home. And when I got home, I was greeted with a package. And oh my, what a package it was!!
Inside the package was this: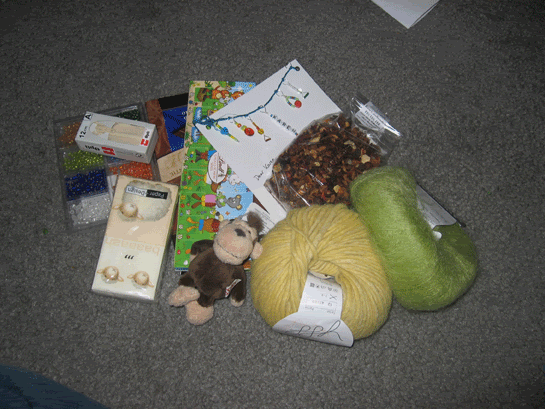 There's some chocolate (mmm...that's dinner!), a zipper, some wonderful beads, a package of tea (that's going along with my chocolate dinner!), a package of tissues with a sheep, an adorable monkey keychain, a card with beautiful handmade (am I right?) stitchmarkers and the most gorgeous green and yellow yarn. The yellow one is GGH Savanna, and the green is Mondial Prestigo super kid mohair. Oh my gosh, I can't wait to make something with this mohair. And I LOVE the color. I think I may kick hubby out of the bed and move the mohair in. Oh, and all that chocolate isn't for me. One of them was so sweetly packed for my little guy. It's the cutest box. You can move the animals back and forth thru the windows and change them up. Give the duck head a mouse body and tiger feet. It's so cute! Danny says a big "Fank you"!
Close ups of the stitch markers and of the cutest monkey: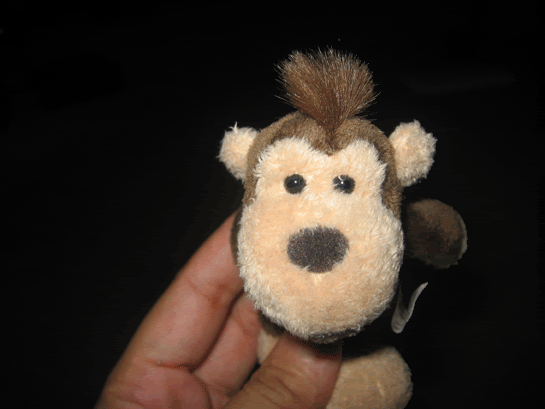 AND the piece de resistance, a shot glass, from where she is, Germany (right? I'm so bad at geography!!! You think I'd know the flag colors at least, since I'm part German!):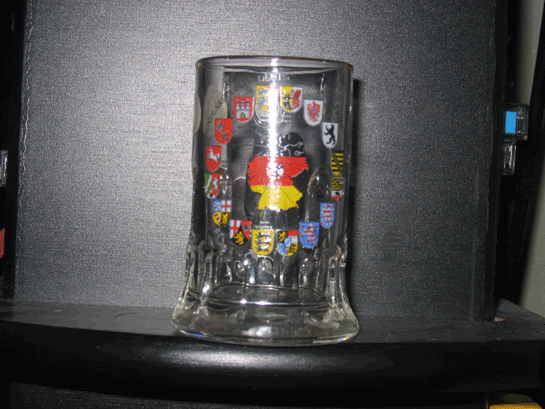 It's a wonderful addition to my collection! Wanna see it? I need another case, this one is full, but this is most of my collection: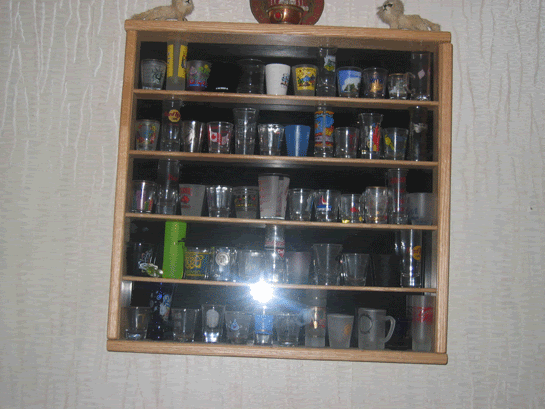 Not only did I get my SP package, but I got my orange yarn from yarnware. I can finally finish the blanket! Great timing, because I just have the kitchener stitching on the second stripey sock and it's done! Pics tomorrow/next day!
SP, if I haven't said it already, you ROCK!!