Ok all, I know I've been MIA. I've been incredibly busy organizing the SP4 round for the
Coffeeshop
and now that everyone has their matches, I can go back to somewhat normal life. And while I don't have pics to show you today, sometime this weekend, if all goes well, I hope to have finished stripey socks (weaving in of ends needs to be done), and a finished baby blanket to show.
Til then, we're all going to play a game! What's the occasion? Well, next Tuesday, April 19th marks my one year blogaversary. Yay!! So, to celebrate the day, we'll play a little guessing game. Over the past year, I've had a number of finished objects. What do YOU think has been my favorite one to knit? Leave a note and the first person with the correct answer will win: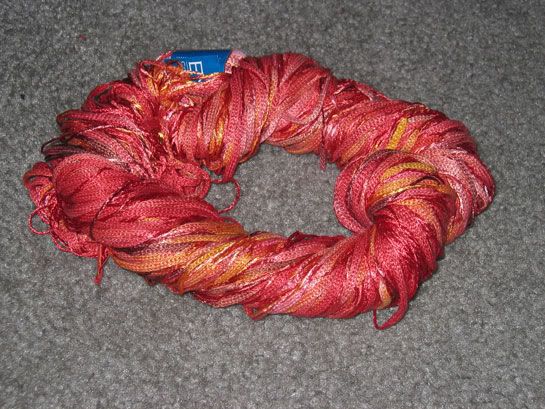 That's one hank of Colinette Enigma. I have wound it into a ball already, thinking I'd use it, but I think it's looking for a new home. Come on folks, gimme your guesses!!