Pink Merino/Silk all spun up. I have a little over 350 yards of it. It's so purty that I don't want to use it, just look at it and pet it.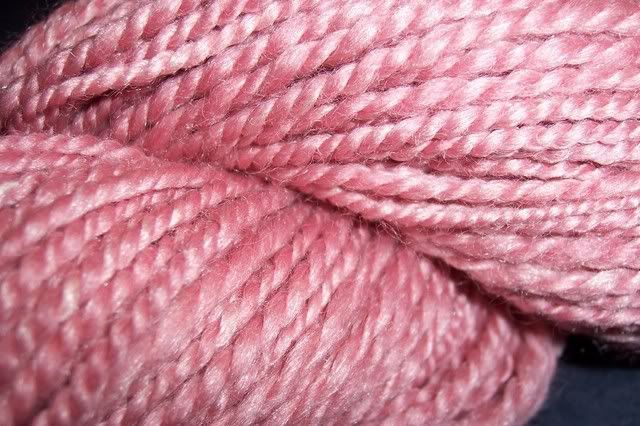 Christmas knitting. Yes, I've already started. I told my oldest friend that I would make her kids matching aran sweaters. She's got three. I don't know what I was thinking. But, I found a pretty easy pattern (Julia's Aran Pullover from the premier issue of Knit It!) and got some Knit Picks Swish and with my new KP options needles, the knitting is going pretty quickly. In fact, I already have the back of the largest size sweater done. I like this view the best, but you can see a wider shot
here
.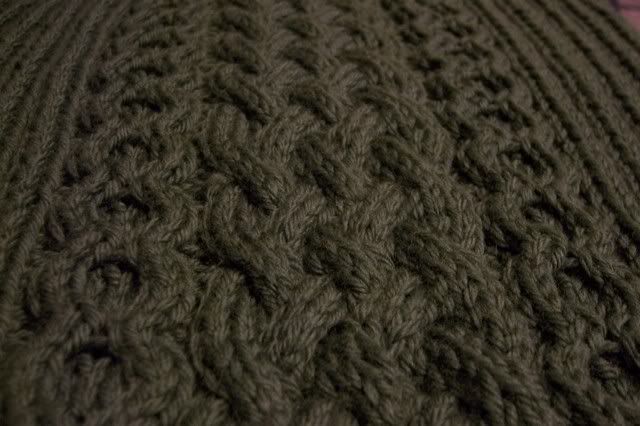 Socks. I love socks. I pulled out all my IK issues and looked for socks that I might not have done. Apparently I haven't done most of the socks. So I started. I started the Simply Lovely Lace socks from Spring '06, in Gems Pearl. I'm using 0's, and they hurt my hands if I do more than a dozen rows at a time, so they're going slowly. But they're really pretty. And I like the picot edging.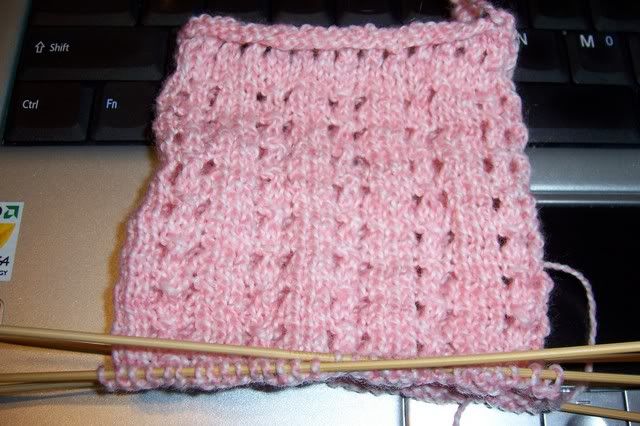 Lacevember. I'm a joiner, what can I say? My project? The tea shawl. I will finish it. I'm determined as heck to get thru it.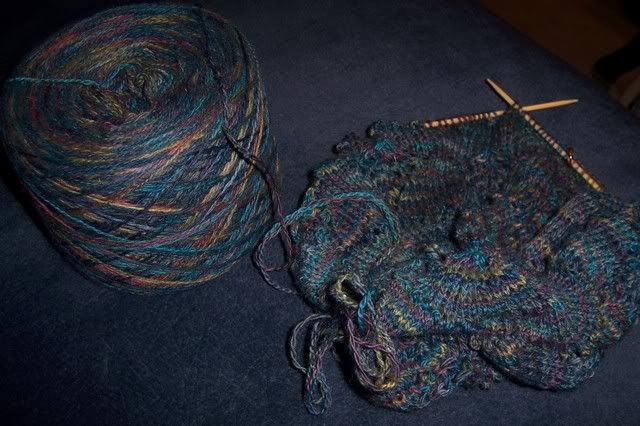 The lacevember questionniare:
How long have you been knitting?
A little over 5 years
How did you learn to knit?
Books and the web.
Favorite thing about knitting?
The creation of garments/objects.
How long have you been knitting lace?
Less than 5 years, more than a year.
Favorite thing about knitting lace.
The tiny needles, the delicate stitches
The yarn questions, or flash your stash
Favorite lace yarn?
I don't have one yet.
variegated or solids for shawls?
I don't have a preference.
Favorite lace color?
I like all colors, but lean towards pink.
Technique, or show us your skillz
Circs or straights?
Circs.
Favorite lace knitting trick?
I don't think I have any tricks.
Lifelines?
If so with what? I have never used a lifeline. But I have unwaxed, unflavored dental floss for in case....
Fancy blocking wires, or just sewing pins stuck in your carpet?
I normally use pins, but I used blocking wires for the first time a month or so ago and I loved them. I must get me some of my own.
Pattern, or can you follow directions
shawls or lacey items?
Both
triangle, rectangle, or circular shawls?
I've only done triangle, but my lacevember project is circular.
Charts or printed instructions?
Charts please!
Favorite lace you've knit?
Icarus, hands down.
Favorite lace you want to knit?
I want to finish the damn tea shawl!
Just Fun, yup that's right, just for fun
Favorite jelly belly flavor?
Pear!
Tell me everything you know about Eric the Red.....
And he would be....?
Coke, classic or with lime?
Classic, but lime is good.
Holiday carols, sing along, or wish they would be banned from all public airwaves?
Sing along, but I can't do it 24/7.
What is the definition of irony?
"It's like rain on your wedding day, it's a free ride when you've already paid, it's the good advice that you didn't take....."
How many licks does it take to get to the center of a tootsie roll pop?
I'm not allowed to have tootsie roll pops with my braces....
Why is my cat always puking in front of my son's bedroom door?
Boys rooms are funny smelling...
What is your superhero power?
I can knit a sweater in 10 days.
If the laundry is 9 foot by 11 foot (just dreaming, that's a big laundry room), and the walls are 8 feet tall, and you are going to tile the entire room in tiles that are 3 inches by 5 inches, what color should those tiles be?
Rainbow.
What's for dinner tonight?
Leftovers
What is clogging my children's bathtub drain?
You really don't want to know.