What do you get when you have 4 days off and a bunch of unfinished objects? Why, finished objects of course!
This weekend I did my housecleaning and grocery shopping early so I could sit and knit/spin. The weather cooperated with me and forced me to stay indoors and out of the rain. So, what did I do? Well, I wove in the ends on Pico, even though the knitting has been done for awhile. I finally got to wash and skein up some camel that I spun and some merino. The merino is the pink color.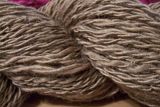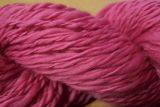 I also finished up a handspun hat for the little guy. He picked out the colors; I can not be held accountable for that. He loved it so much, he wore it in the house all day and then wondered when we could go shopping for more fiber to make him a scarf.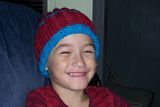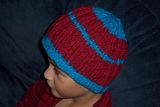 I finished up the second of the Northern Lights Mittens.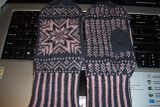 I finished up Go With The Flow. The photo is not the most flattering of me. I blame my brother.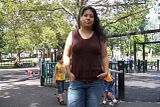 I dyed up some silk hankies using some Kool Aid. I got a headache from the sweet smell in my kitchen. They are more red than the picture makes them out to be.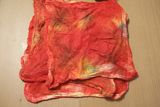 I started spinning up some merino/kid mohair blend that I got from the Yarn Tree.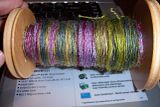 I finished up a secret project for my spinning sp, but I can't show you that. And speaking of SPs, my very belated photos of a package from my spinning SP.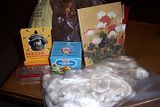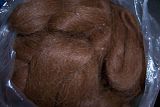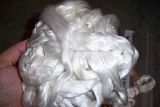 The brown fiber is a pound of alpaca (YUM!) and the white is bombyx silk top.
Blog stalking photos next time.