A couple months ago, I joined the Knitflix swap. My partner on this swap,
Erin
, sent me this terrific package: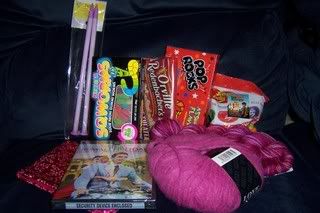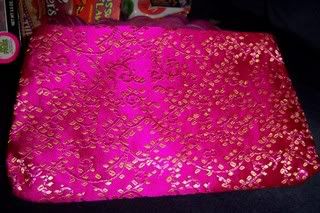 Roman Holiday, gummi worms, Pop Rocks (oh how I LOVE these!), popcorn, Jelly Bellys, Daisy needles (size 13, they're PINK!), a skein of Filatura Di Crosa Love yarn, and a skein of Knit Picks shimmer. The best part of the package? The pink bag. I can't wait to use it! Erin rocks. If you ever get her in a swap/SP round, you're a lucky person.
Next...Wanna guess what I finished tonight? I'm borrowing blocking wires tomorrow and will show you a finished photo soon.