First up, the blog stalking photos for the week. Inside your freezer. Despite the COOK part of cooknknit, I haven't done much cooking. Thus, there's not much in the freezer.
Because there's not much to eat in my fridge, and I did feel bad about the lack of cooking going on in my house, I made dinner last night. Dumplings from scratch. Not one left over. :)
Onto the knitting. Last Sunday, I went to visit with an old friend. We met at the park so the kids could run thru the sprinklers. Of course, knitting had to come too. The sock is
rpm
, and it was finished shortly after the trip to the park. Click for the finished sock.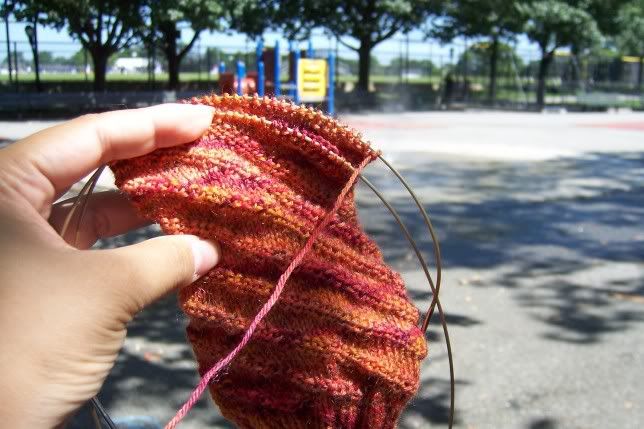 Unfortunately, I was afraid that the security at Giants Stadium wouldn't allow me in with metal needles, so I left the second sock at home on Wed., in favor for bamboo dpns and started
Baudelaire
. The first sock was finished yesterday, during a McDonald's play date with Bean. Click for the finished sock.
Who did I see at Giants Stadium? Why, Bon Jovi of course! I'm a big fan. Pics of Bon Jovi himself on the big screen and of my man Richie Sambora.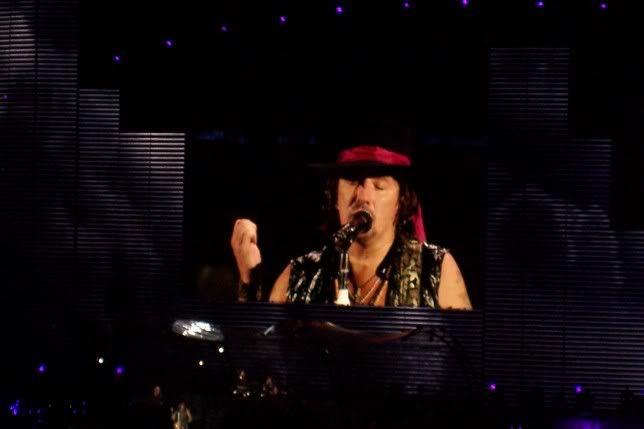 Stuff in the mail. I did a trade with
Trek
and received a wonderful sock bag in return. Ever since I got it, I've used it every day.
I also did another trade on the Knittyboard, and I received a spindle and some roving.
You may remember, that I had purchased a spindle before. I didn't do so well with it, so I traded it away. Since then, I have made friends with Valerie and tried her wheels, and Bean has taken up spinning on a spindle and I felt the need to try again. My first attempt at spinning the roving that came with the spindle....I spun the singles and then plied, and then washed it to set the twist. I'm quite proud of my first attempt (click for a closer view).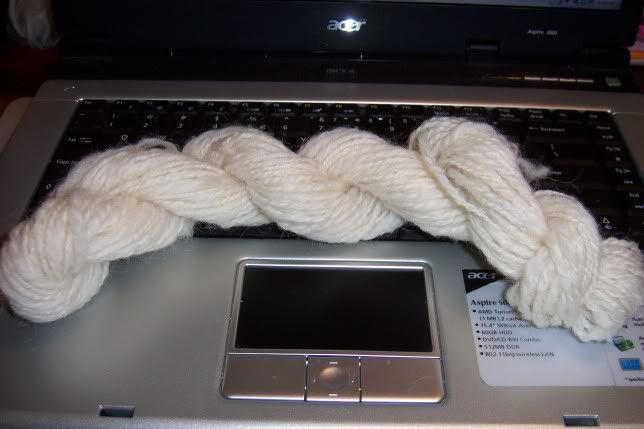 Bean knew I got the spindle, so she brought me some stuff to spin, and shared some of her silk hankies.
And because I was so thrilled with my new spindle, I decided to get another one, top whorl and try that out, and some more fiber. Aren't the colors fantastic?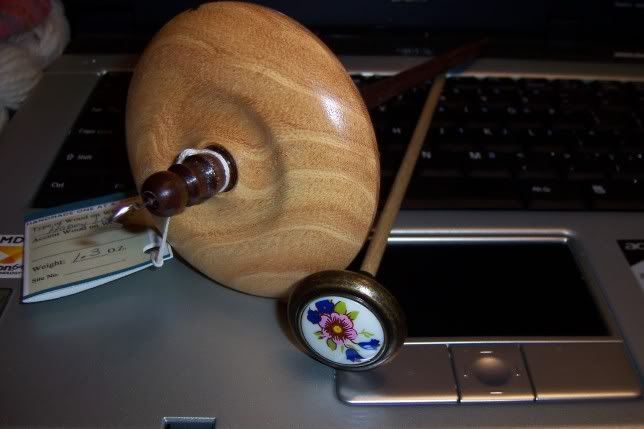 Now I'm off to go play with my new spindles.