I believe that I am a quick knitter. I knock out projects fairly quickly. I didn't have the pressure during the holidays, because I started early, and the projects were simple and quick. But today, I have more projects on my plate than I think I can handle. And I'm stressed. Soooo....I picked up and started a new project.
Wendy
doesn't make things easy for me by creating a new, cool bag,
Roxy
. I'm 1/2 way thru it and it was started last night.
So, this week's letter is C. C is for cross stitch. Before I learned the joys of knitting, my hobby of choice was cross stitch. I did a bunch of baby samplers, and a great alphabet sampler using musical instruments. Almost everything had been given away. One of my coworkers learned that I did cross stitch and came in one day with a partially started project. One of her relatives had started it and it was too hard, would I like to have it? Sure, I love a challenge. This proved to be the most difficult one I have ever done, and it ended up being the last. I worked on it with the goal of finishing it before I gave birth, and if you look at it carefully, the bottom left hand corner has a small smudge, where I learned the lesson of NOT eating chocolate ice cream and working on hobbies at the same time.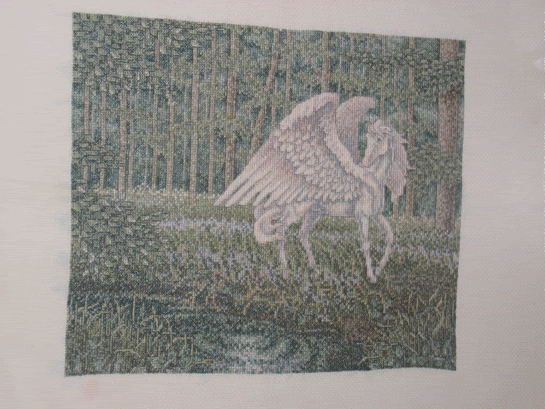 Pegasus had about 45 colors, 40 of them shades of brown and green. It was done about a month before I had the little guy, and 6 months later, I learned how to knit, and cross stitch has been put on the back burner. But I still get the catalogs, and I yearn to do this one:
butterfly fairy
Next time, I will need your advice on what to do with the mess that I call the shawl.