I know I promised pics of WIPs but today you get 2 pics for letter B and a meme that
Laura
tagged anyone who hasn't done it.
B is for bunny: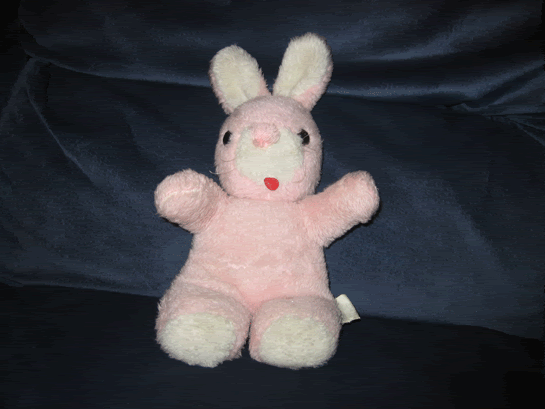 This bunny was given to me by my grandfather when I was very little. I was his favorite grandchild, and this bunny is one of my prized possessions.
B is also for Bored: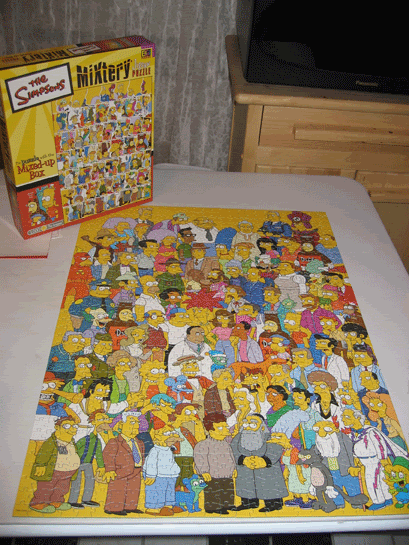 I was bored this past weekend and instead of knitting on WIPs, or starting something new, I bought a puzzle. I started it Friday afternoon, and it was done on Sunday night. The picture on the box is mixed up so you have to work fairly hard to figure out where the pieces go, and there are 1026 pieces.
And here is the meme:
4 jobs that you have had in your lifetime (in order, not omitting anything...)
* I put the price tags with the plastic thingy on clothes. (age 15)
* Cashier (ages 15-16)
* gopher at doctor's office (front desk/operator/appointment clerk/medical
records clerk) (ages 17-23)
* Executive Assistant (fancy title for paper pusher/secretary) (age 22-present)
4 movies that you could watch over and over
* Grease
* Dirty Dancing
* Joy Luck Club
* Beauty and the Beast/Aladdin/Little Mermaid (It's hard to choose)
4 places that you have lived
* Forest Hills, NY
* Little Neck, NY
* Maspeth, NY
* Brooklyn, NY
4 TV shows that you love to watch
* 24
* Anything on F/X
* Real World/Road Rules/RW-RR challenges
* E! True Hollywood stories
4 places that you have been on vacation
* Vegas
* Washington DC
* Cleveland
* Florida
4 websites that you visit daily
* Knittyboard
* Myspace.com
* Bloglines
* Google news
4 of your favorite foods
* Shrimp
* Dark Chocolate
* homemade Chinese dumplings
* peanut butter/grape jelly sandwiches
4 places that you would rather be right now
* home with my boys
* someplace warm and sunny
* anywhere that I didn't have to pay for
*
4 bloggers who you are tagging
Anyone who would like to be tagged.
Next time, pics of WIPs I swear, and maybe a photo of the mittens I have finished for my mitten swap!