The goose is getting fat. Please to put a penny (or a dollar) in Karen's hat. I just made out my "to knit" list for Christmas and oh my gosh is it long. And sadly, only one item is complete, save for weaving in ends. I'm afraid that there won't be many pictures over the next month or so, as I'm not sure if my family and real life friends read this. But, we'll see what we can do.
Today's show and tell is a pair of gauntlets. My extremely sweet SP sent me a pattern for gauntlets and some great pink Koigu to make them with. Interestingly enough, the day I got the package, I was thinking to myself that I should make some gauntlets out of some pink Knit Picks yarn I have. I think my pal must know me better than I know myself! I started them Sat. morning, and finished them last night. They're so girly and pink and I love them.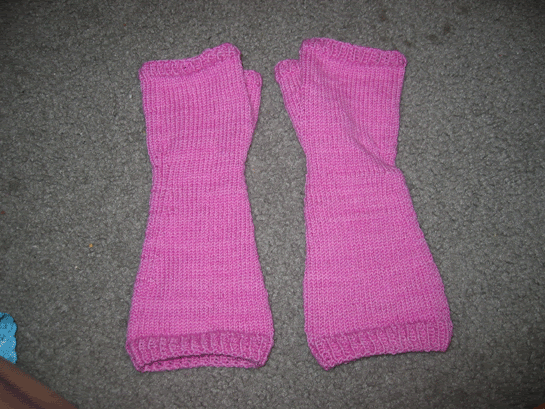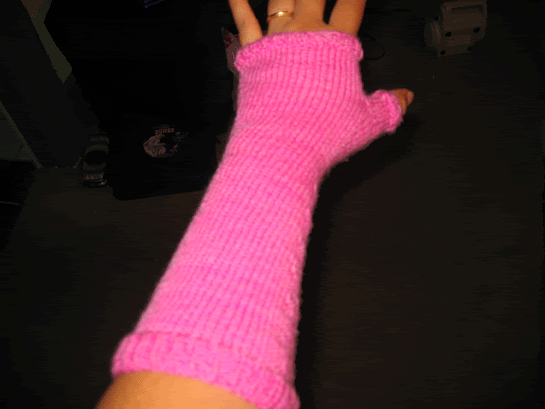 My brother saw them and wants a pair. He's an iron worker and usually layers gloves but finds it difficult to move his fingers with several layers of "fingers". Gauntlets will keep his hands warm, but allow his fingers to move. And the fact that it only took me two days to finish them...an added bonus! I've already started his pair, out of a skein of Socks that Rock from Rhinebeck in the "Lucy in the Sky" colorway.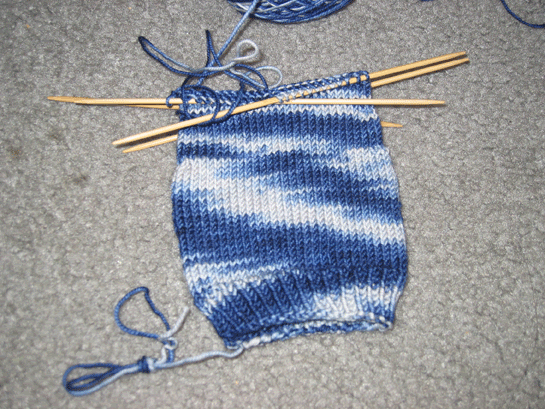 Did you dress up today? I didn't, but did my part by baking some pumpkin bread for the office (and brownies with mini peanut butter cups hidden inside for hubby's office and chocolate chip cookies for the little one's harvest party today). The little guy can't use the bathroom in his costume, so we opted for a quick costume for school, a pirate outfit that hubby wore for last year's speak like a pirate day. It's big, but it was easily fixed by a belt and some safety pins. The real costume is Mr. Incredible, which we wore trick or treating tonight.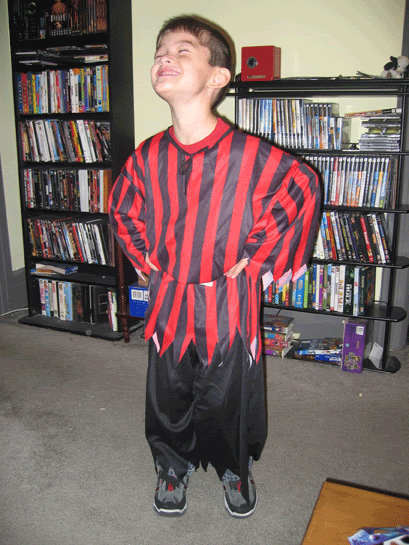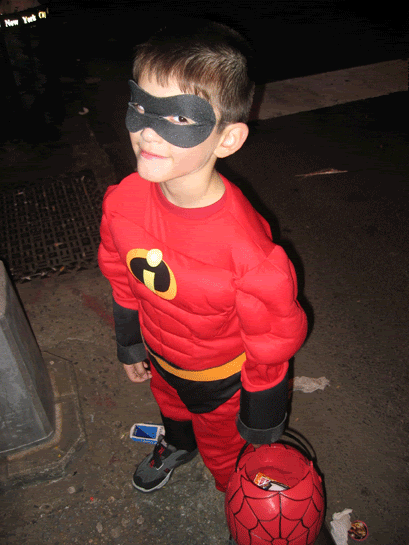 Give Me Candy!!