Last week, I spent the week cleaning, in preparation of my little guy's birthday party on Sat. The party was wonderful. Everyone had a good time. There were 4 pounds of chicken cutlets, a huge tin of baked ziti, and brownies...all made by yours truly. All the kids went home with Halloween tins of treats as goody bags: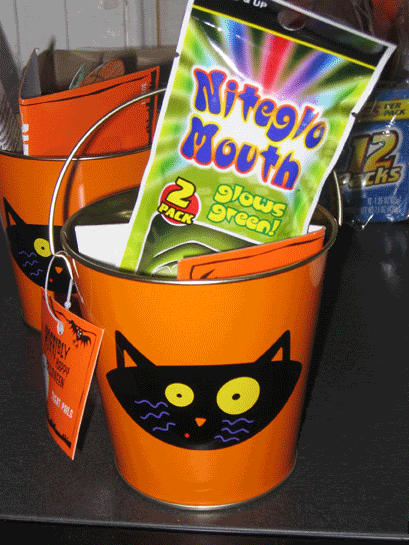 The birthday boy (he's FIVE now!!) eating cake with a fake smile: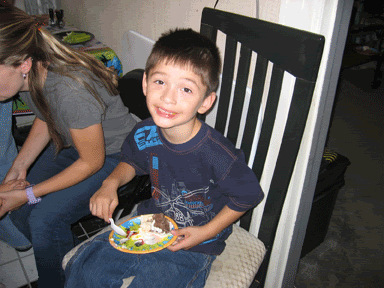 And the second the guests left on Sat., guess who cast on for a new project? Yes, that would be me. I am making the
Eyelet Cable Raglan
from Adrienne Vittadini's Fall 2004 book, and I'm using
Debbie Bliss Alpaca Silk
in shade 9. It's going quite quickly...I'm hoping it's just because I'm using a larger size needle than I normally use (a US 7) and not that I'm that speedy. I finished the back last night: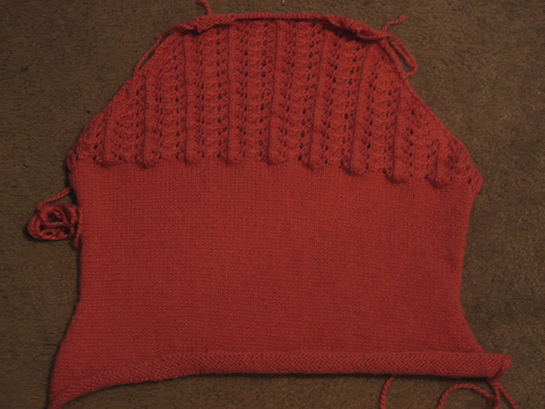 If the rest goes this quickly, I may wear it to Rhinebeck next Sat.
Next up:
The Scarf Cowl
from Knit Picks. I have one hank of
Shimmer
that I am hoping will make gauge. I can't see why not though...both Shimmer and Shadow, the yarn used, are laceweight.