I finished the first of the the Spiral Rib socks (called "After Bertha" in the book).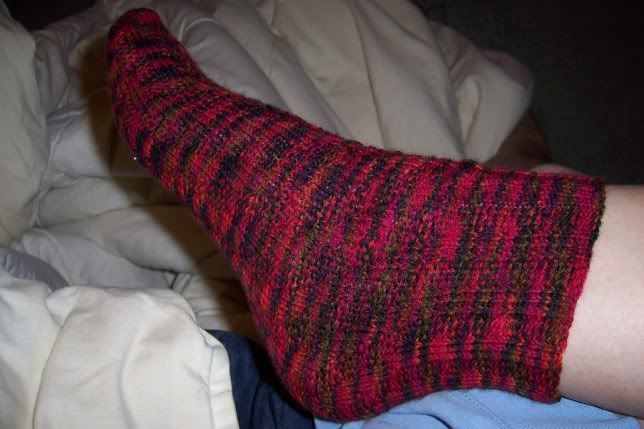 They're short, but I'm ok with that. I kind of got tired of doing the spiral rib, not to mention that the cast on is a little tight. You can't see the pattern well with this dark yarn, but I like them, and that's all that matters.
Next, albeit late, my "I" for the Knitty ABC along. I is for ISBN.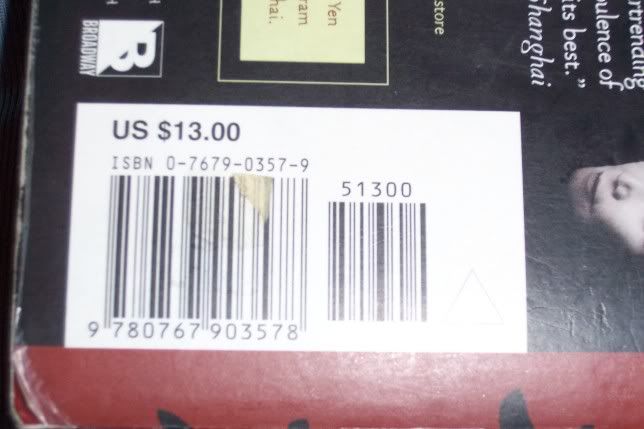 The ISBN you see is for my favorite book,
Falling Leaves, The Memoir of an Unwanted Chinese Daughter
. As some of you may know, I am half Chinese. I went thru a period of time where I wanted to read books written by Chinese authors. Sort of searching for something with my heritage. I picked books at random, and this was one of them. I fell in love with this book. I have read it over and over again, and when anyone asks me for a book recommendation, I give this one. And every single person that I've recomended it to has loved it as well.
And last but not least, the decision I made. I have decided to put the shawl away. I am leaving it as it is, marking carefully where I left off, and putting it away. It is no longer fun for me to knit. And I don't want my knitting to be a chore. So, look for it again at a later time, but not anytime soon. Instead of this shawl for the wedding, I'm going to make
Convertible
. I need yarn (of course I do, don't look at me like that...), but I will purchase it this week. Look for pics soon.