I think I'm in a knitting funk. I don't have a major project at the moment, just doing small things that get done quickly. I have a major project on the list, but don't have the oomph to get the yarn out and do it. I need the oomph. Someone push me in the right direction. Wish it was something I could order or pick up in a store.
So, onto the finished projects: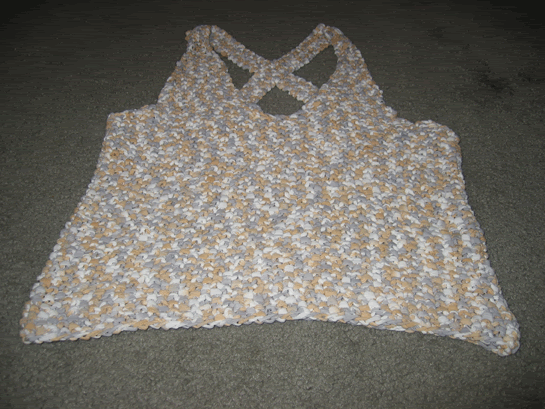 That's the
Ribbon X-back
, and the butterfly socks that my sockapalooza pal is getting. Someone last post asked what pattern it was. It's a Fibertrends pattern, called Butterflies and Blossoms, or Blossoms and Butterflies. Something like that.
WIPs: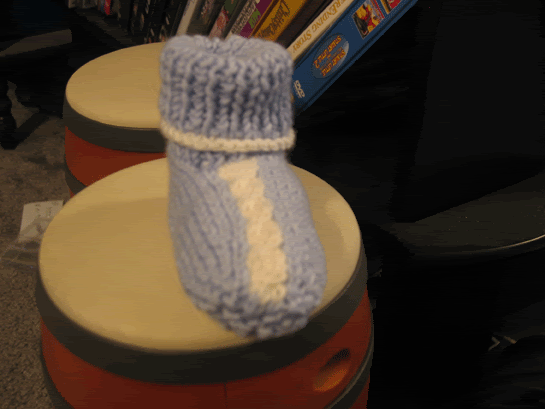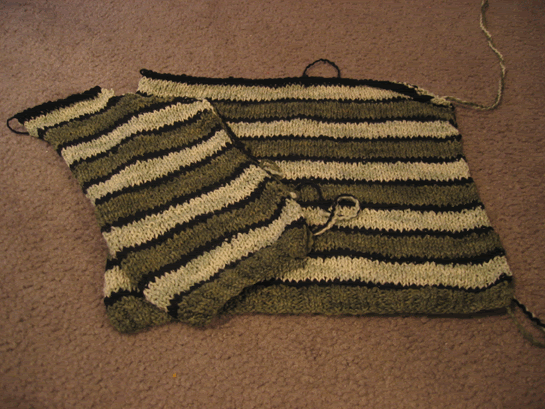 The baby bootie is from
50 Baby Booties to Knit
, made in Debbie Bliss baby cashmerino. And the stripey goodness is a baby cardigan for my hubby's cousin's son (2nd cousin?) for Xmas. Pattern is from
Family Circle Easy Knitting
Spring/Summer 05 and is in
Manos Cotton Stria
(in olive, black and mint). And that thing that the baby bootie is resting on? Don'tcha know? It's a bongo to play
Donkey Konga
!
I would like to learn how to do entrelac. Any one have a fairly simple pattern, maybe for a scarf, that they can point me to? Maybe that will give me the push I need to get out of the funk.
Non knitting content:
I got out of the shower this morning and found my son in his room playing his game boy. It was just after 6 am, and this is how I found him...