This weekend is a lazy weekend. I've slept and knit. That's about it. And though it was a lazy weekend, it's been a productive weekend.
My Knitpicks socks are done.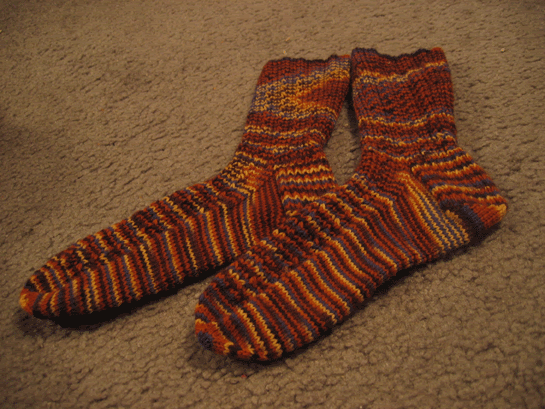 Also the Fibertrends hat I started last week is done. Ignore the mess of my kitchen and the old pretzel container that is modelling the hat.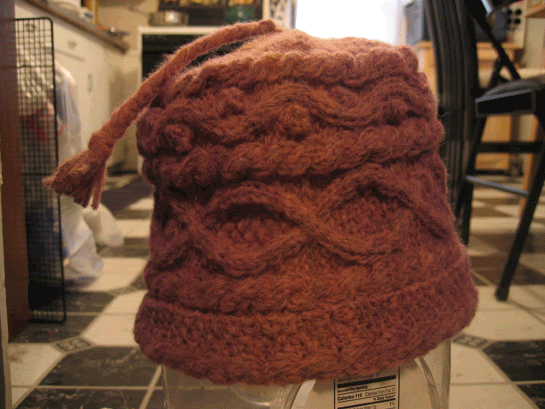 I've also started on the Rebecca sweater, and while I can take a pic of it, it's just boring stocking stitch right now. When I work on the front with the cables, you'll get pictures.
I've been interviewed by
Stephy
. Here are my answers.
Q. You said once that you knit a lot of socks. Do you use DPN's, or do you use circs? What is your preferred sock yarn?
I've done the 2 circs and I wasn't thrilled with doing them that way. I've also tried the magic loop, but I think I'm a moron and never got past the first couple of rows. So I do them on dpns and love doing them that way. No one messes with a woman wielding 5 pointy needles on the train! :)
Q. You said on your blog that you're working on felting a bag. Are you planning to felt by hand or machine?
As I live in an apartment that doesn't have a machine, I'm tempted to do it by hand. But I've tried felting by hand before and it didn't really work out. I may go down to the local laundromat and try it out there.
Q. You've mentioned being a mom several times. How many kids do you have, and what ages?
Just the one little guy. He's 4 1/2.
Q. What's your favorite of all the projects you've done?
http://cooknknit.blogspot.com/2004/12/nordic-mittens-done.html
Q. What project would you tell another knitter "Don't do it--it's not worth it"?
Let's see, I really haven't done anything that I wouldn't do again. If I had to choose one project, it would be the baby blanket I made with a gazillion (ok, maybe only 30) squares that needed to be sewn together. That wasn't fun, but I would definitely do it again, with maybe crocheting the squares together the next go round.