I think the no knitting bug has hit me. I want to knit, but I don't want to knit. But I think I'm slowly coming back. I've been working on a super secret project for my
Secret Pal
. I've completed the project and have pics, but alas, it's secret, so no pics til later.
I do have pics to show you of the yummy Lorna's Laces socks I started. I saw the new colors on
Rob's
blog, and I needed to have them. He sent them out ASAP and this is what I've come up with: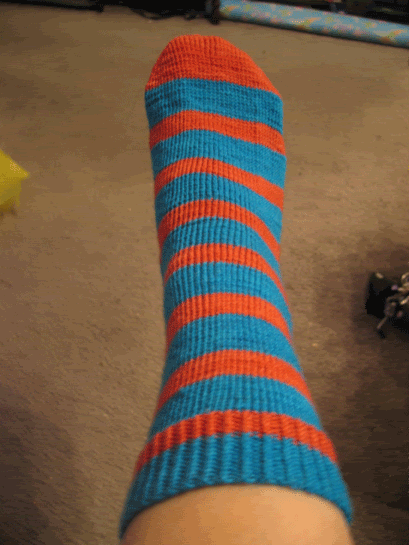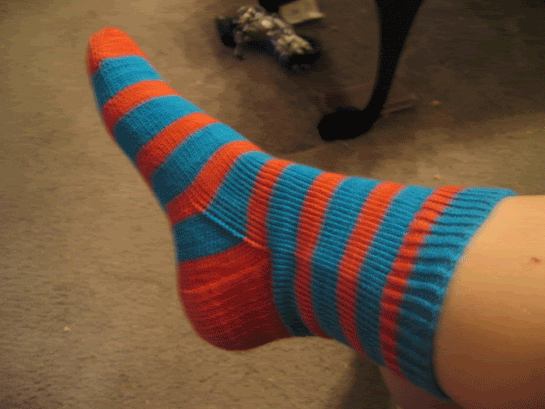 Aren't the stripes just wonderful? I am so in love with the stripes, my first attempt at striped socks in fact, that I plan on seeing if Lorna's Laces has different shades of green to make striped socks in the same colors as
Steve's
shirt from Blue's Clues. Hubby thinks I have a problem, and well, I think I do too. :)
Next I succumbed to the trend of
Kool Aid dyeing
. This: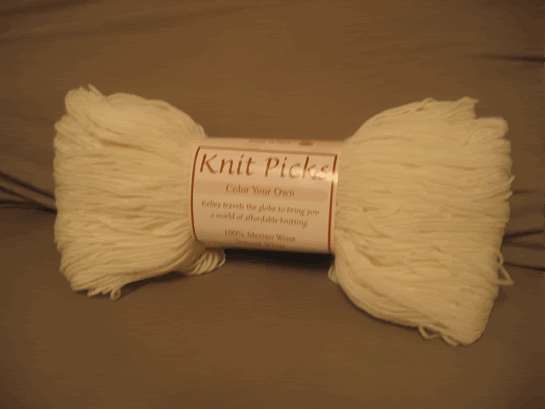 mixed with a package of Mango Kool Aid and a package of Pineapple Kool Aid, turned into this: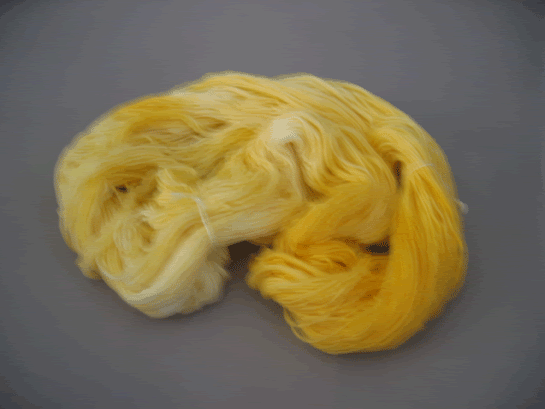 It's not all even in color, but I like it and am planning on going back to the store for more Kool Aid for the other skein of yarn I got from
Knit Picks
. Hubby thinks I should make a over the shoulder bag from the dyed yarn....what do you think? I don't really have any thoughts on what to make from my pineapple-smelling yarn.
I have 20 balls of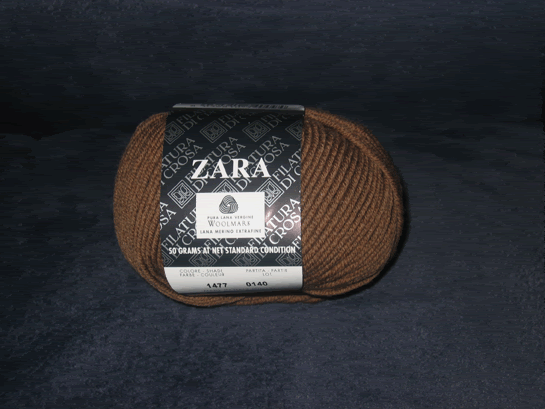 that I was going to design a sweater from, but I scrapped that project. I am now going to try and get gauge for
Mariah
with it and hopefully have a new sweater soon.
I also signed up for the Advanced Handknitter's Level I program from
TKGA
. I'm hoping it will make me a better knitter and help me learn and understand stitches more. So, I may not have been a busy knitter, I have been busy. :) Til next time.