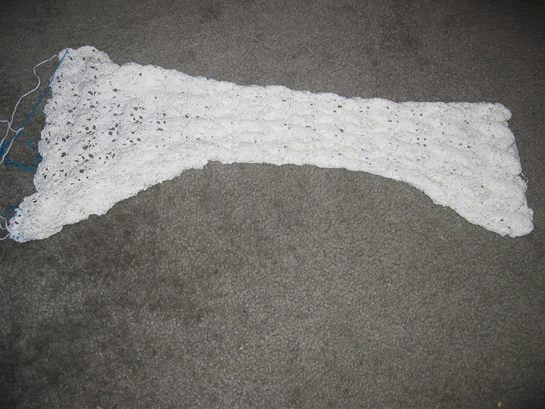 My name is I Do. Glad to meet you. I wanted to get in on this whole blogging thing and see what the whole hoopla was about. Let's see, what can I tell you about myself? My pattern comes from
Knitty
. I'm made up of
Austermann Mayfair
that Karen, my knitter, bought from
Elann
.
Karen thinks that my pattern is wonderful and that there will be enough of the yarn left over to make one for herself, since
I
will be heading to FL to make my big debut at a wedding in November. Karen isn't sure that the color white is what she wants, and isn't sure if she can dye this particular yarn. I'm sure you lovely folks out there can help her out.
I am a bit upset with my knitter at the moment though. She's become bored with working on the second half of me, so she picked up another project. Hmmph! The nerve! What? You want to see what she's working on?!? You've got nerve too! Well, here it is. It's not as beautiful as me. I don't see what she sees in it.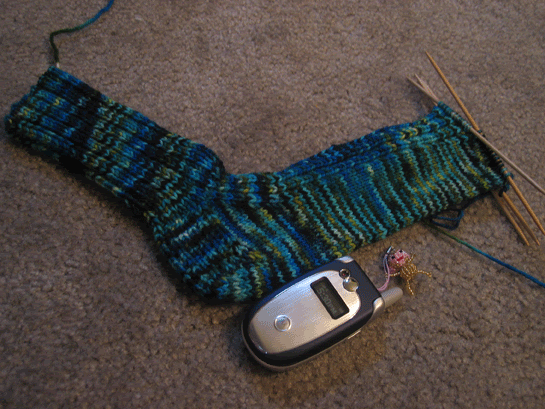 Karen says that the sock is for her cousin Mike, who has size 14 feet and since he's got such big feet, she's got to work on them now. She says that the feel of the yarn is wonderful and thinks that she will have to buy more because she's not sure she's going to get a full second sock out of the rest of the ball. She's praying that Interlacements will have another skein in the same dye lot.
I
say ha! on her if they don't. Serves her right for abandoning me for something else.
I like this blogging thing. Maybe I'll sneak back here again when my knitter finishes me to show you myself in my full beauty.